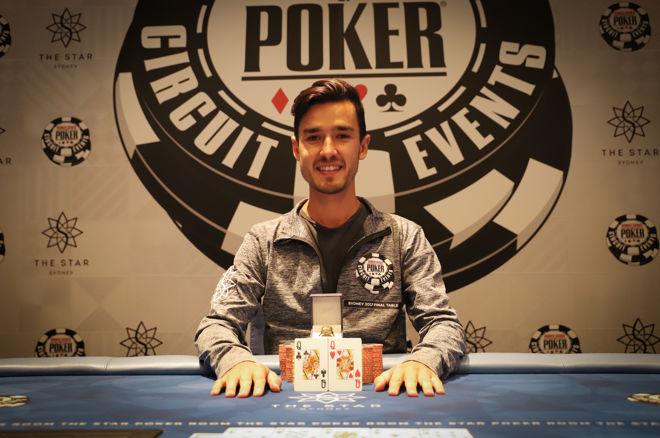 In last year's $5,000 Challenge at the World Series of Poker Circuit Sydney, Brendon Rubie had the title in his grasp. But as things went awry, as they often do in poker when you think you have things figured out, Rubie finished in second place to Luke Edwards. And redemption was on his mind as he maneuvered through a field of 229 entrants all wanting to claim their share of the $1,087,750 prize pool this time around.
Rubie wouldn't have it easy as he tried to earn his seat at back-to-back final tables. As you would expect with a $5k buy-in, the field was tough and littered with household-name pros including Randy 'nanonoko' Lew, Celina Lin and 2005 WSOP Main Event Champion Joe Hachem. Plenty of well-known local talent also made their way to the felt including Aussie pros Jarred Graham, Daniel Nielson, and Jonathan Karamalikis.
Unfortunately for Karamalikis, his tournament was cut short when he was eliminated on the bubble. He ran his
into the
of Steve Pappas. There was no queen in sight and Karamalikis found himself eliminated in 25th place, guaranteeing the remaining 24 players at least $10,039.
Once the bubble burst, the bustouts came at a furious pace and before anyone noticed, the tournament was down to its final ten players. And it was another big name that would bubble a milestone.
Playing for a seat at the official final table, Hachem moved all of his chips into the middle with a pair of kings and liked where he stood against the ace-king of Sam Higgs. At least until the board ran out that is. Higgs found what he needed when the
board was dealt giving him a flush and sending Hachem home.
With Hachem's elimination, the final table was set and Rubie was ready to claim victory. "This is just ridiculous," Rubie told the Star Poker Live Reporting Team. "To be here again after coming so close last year is amazing."
The Final Table
| Seat | Name | Chips |
| --- | --- | --- |
| 1 | Ray Liu | 420,000 |
| 2 | Ryan Pignatelli | 240,000 |
| 3 | Brendon Rubie | 400,000 |
| 4 | Andy Lee | 690,000 |
| 5 | Jordan Westmorland | 450,000 |
| 6 | Charbel Boustani | 350,000 |
| 7 | Sam Higgs | 1,240,000 |
| 8 | Antonis 'Toothpick Tony' Kambouroglou | 335,000 |
| 9 | Steve Pappas | 250,000 |
With an overwhelming chip lead, one might expect that Higgs would be flexing his muscle at the final table. And he wasted no time in doing just that by eliminating Antonis 'Toothpick Tony' Kambouroglou. Higgs effectively put Kambouroglou all in when he raised from UTG with
. Kambouroglou made the call holding
and his hopes were dashed when he saw the
come on the flop. There was no runner-runner miracle and Toothpick Tony was eliminated in ninth-place taking $25,159 with him.
Higgs continued to collect chips and maintain pressure on his opponents. It was Ray Liu who next tried to tackle the beast when he moved all in with
. Unfortunately for him, Higgs had an easy call tabling
. There was no surprise ending here and Liu exited in eighth place with $31,544 to show for his efforts.
It was Steve Pappas who finally put a dent in Higgs' armor. After doubling through Higgs, Pappas claimed the next elimination when he snap-called the all in of Ryan Pignatelli. Pappas held
, while Pignatelli showed
. Pappas paired his ten on the turn and Pignatelli couldn't find an out on the river. Pignatelli racked up $40,137 for his seventh-place finish.
Rubie Takes the Lead
It was right about this time that Rubie started to make his move after calling the all in of Charbel Boustani. Boustani was ahead going into the flop with
against Rubie's
. The
flop was a good one for Boustani and he felt a bit better after the
was dealt on the turn. But the river was cruel, as it often is when it served up the
sending Boustani home in sixth place with $51,831.
Higgs has pretty much been the table captain throughout the final table. Well, his reign was about to come to an end. Rubie raised to 55,000 preflop and Higgs made the call. Rubie continued for 60,000 on a flop of
and once again, Higgs called. The turn revealed the
and Rubie led for 125,000 and instead of calling this time, Higgs moved all in. Rubie made the call and Higgs show
for two pair. It was Rubie, however, who held the lead with a better two pair when he showed
. The
river didn't change anything and the pot put Rubie above the 1 million chip mark.
Rubie wasted no time putting his chips to good use.Andy Lee was all in with
against Rubie's
. The
flop looked to be in Lee's favor and then the
turn was dealt. What's an all in without a sweat, right? Well, the river
gives Rubie the miracle straight, sending Lee to the rail, $67,951 richer.
Rubie maintained the pressure on his opponents and Pappas was only left with one move when Rubie raised to 55,000 pre-flop. With all his chips in the middle and only a slight dog heading the flop, Pappas was hoping to pair one of his two over cards. But Rubie's
held up and Pappas was sent home in fourth place with $90,468.
Three-Handed Chip Counts
| Seat | Name | Chips |
| --- | --- | --- |
| 1 | Brendon Rubie | 2,400,000 |
| 2 | Sam Higgs | 1,700,000 |
| 3 | Jordan Westmorland | 400,000 |
aIt didn't take much time to get to heads up. Higgs moved all in on the river with the board reading
and Jordan Westmorland made the call. Higgs showed
for two pair. Westmorland tried to find something in his hand but ended up mucking it and his chance at a ring in the process. Westmorland leaves the tournament in third place with $122,328. Hopefully, his six-figure payday is a sufficient consolation prize for his two days of effort.
And it was just two hands later that 2017 WSOP Sydney $5K Champion was crowned. All the chips were in the middle preflop and the players tabled their hands.
Rubie:

Higgs:
After the
flop was dealt, Higgs realized he would need a runner-runner to stay alive. The
aon the turn sealed his fate and the
on the river officially eliminated Higgs in second place and solid $166,079 for a great run.
Final Table Results
| Seat | Name | Chips |
| --- | --- | --- |
| 1 | Brendon Rubie | $271,952 |
| 2 | Sam Higgs | $166,079 |
| 3 | Jordan Westmorland | $122,328 |
| 4 | Steve Pappas | $90,468 |
| 5 | Andy Lee | $67,951 |
| 6 | Charbel Boustani | $51,831 |
| 7 | Ryan Pignatelli | $40,137 |
| 8 | Ray Liu | $31,544 |
| 9 | Antonis 'Toothpick Tony' Kambouroglou | $25,159 |
Rubie liked his chances from the beginning of the day, saying, "I knew from the start of Day 2 when there were 34 runners left that this tournament was mine to win. I had a good stack and I was playing well. I knew I could win but I was still really grateful. Making it to the final table is always such a luxury. I just keep trying to do my best, it was a really tough final table and it was great to get the win."
Rubie is comfortable playing in the Star Poker Room and always makes room in his hectic schedule to play some of the marquee events. "Because I travel a lot for different tournaments I only get to come (to the Star Poker Room) every few months," Rubie said. "But I think it is really fantastic here, they have done a great job with the place. I always make a point of telling people how good the room is because it is a really great poker room now. Definitely worth the visit."