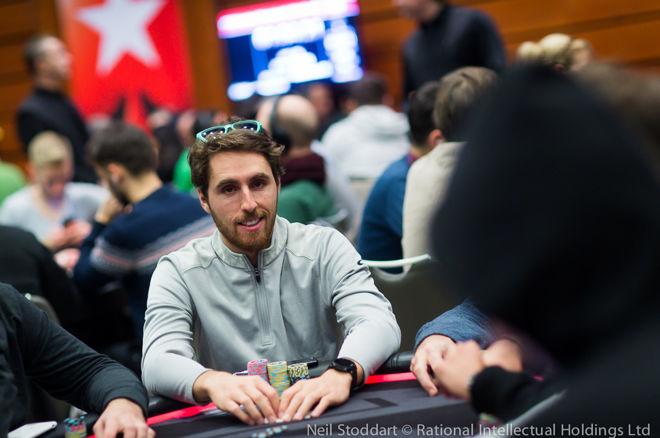 One of the early frontrunners on Day 1b of the PokerStars National Championship Prague is Dani Juncadella. The 26-year old from Barcelona, Spain, is a professional racing driver in daily life and has been a test driver for the Formula 1 team Force India. His accolades include championships in the Formula 3 Euro Series and the FIA European Formula 3 Championship. He's currently employed by Mercedes and has recently been active in the Blancpain GT Series. PokerNews spoke to Juncadella during the second break to ask about his tournament and how poker and racing relate to each other.
Let's go! Empezanos fuertes tweeted Dani Juncadella after nearly thirty minutes of play. The Spaniard doubled up his stack right away in the early stages and described to PokerNews how the hand went down.
"The cutoff opened and the small blind three-bet. I decided to cold four-bet ace-ten of spades from the big blind and the small blind called. The flop came down
with two spades. He checked, I bet one-third of the pot and he called. The turn was the
and we both checked, which I think is a mistake on my part. On the river, the
landed, which turned out to be the best card for me. He bet around 60% of the pot, I moved all in for about twice that, and he called with
for a straight."
"POKER IS ACTUALLY A PERFECT MENTAL TRAINING FOR ME."
Assessing the way he speaks about poker, it quickly becomes clear Juncadella is passionate about the game and familiar with the intricacies that reveal it's not his first time at the green felt. Although Juncadella's Hendon Mob shows just one small live cash of €730 to date, most of the racing driver's experience has been from online poker.
"I've lived in Andorra for nearly three years and recently moved back to Spain. I like to play online, but I don't always have the time for it due to my work. I play the WCOOP when I have the time and I've played two qualifiers for Prague, for the National Championship and the Main Event. I ended up qualifying for both."
Merging His Two Passions
The fast-and-furious nature of competitive racing, adrenaline-fueled with split-second decision making at every turn seems the polar opposite of the sometimes long-winded down-phases that come with poker. However, poker turns out to be the perfect addition to Juncadella's racing career.
"Poker is actually a perfect mental training for me. During racing, the adrenaline is always high, as you must make split-second decisions. In poker, I have a longer time making decisions, and I can struggle with having too much to time to think. In racing, you're overtaking each other, and in poker I can sometimes make it too personal. There are so many good players [in poker]. I come from a competitive background, so I like to win."
"I LIKE TO PLAY ONLINE, BUT I DON'T ALWAYS HAVE THE TIME FOR IT DUE TO MY WORK."
An employee of Mercedes, Juncadella's plans for next year are currently up in the air. He's been active in the Blancpain GT Series and has been testing for the Formula E. In the past, Juncadella has been a test driver for Formula 1 team Force India. Asked about his future plans, Juncadella told PokerNews the following.
"My plans for next year will be decided next week and I'm probably staying with Mercedes. One thing I'm definitely doing next year is the Daytona 24 Hours in January [Jan 27-28], which is like the 24 hours in Le Mans. As for the Formula 1, I didn't have a big sponsor behind me. I'm not ruling it out for the future, but I'd probably need to win something like the DTM if I want to make it without a big sponsor."
We'll keep track of Juncadella as he tries to navigate his way through the stacked PokerStars Championship Prague Main Event.